________________________________________________________________________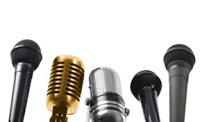 It used to be that all you had to do was pitch a great idea with a clever hook, and you'd be booked as a guest on a half-hour radio show.

These days, however, hang onto your wallet. A new breed of radio host is insisting that guests fork over a few hundred dollars— sometimes more— for the "privilege" of being on their show. Some guests, desperate for exposure for a new book or project, willingly pay the money. Then they're disappointed when they get little feedback from listeners, or the show leads to no product sales.
There's nothing wrong with the concept of paying money for air time. But there's a name for it. It's called advertising. Joe Sabah, author of the book How to Get on Radio Talk Shows All Across America says that if you want a legitimate interview, no money should change hands.
"With more than 740 radio shows all over the country willing to book guests for free, there's absolutely no reason why anybody should have to pay," Sabah said.
A different twist on the same theme involves a radio station approaching someone and offering them their own weekly show on a particular topic, then telling them they must charge guests to appear. That means that if a host comes across someone who they think would be a great guest, they can't book them if the guest can't afford to pay.
Why, suddenly, are some radio interviews no longer free?
The radio industry has been going through sweeping changes in the last several years, with many stations being bought or sold for hefty amounts, and that means they're trying to entice people like you into paying the freight.
Joann McCall has an interesting perspective on the problem. As president of McCall Public Relations in Portand, Oregon, she specializes in generating publicity for authors. She also has been a radio host, interviewer and newscaster for 18 years and hosts a radio show with her partner, Debb Janes, called "Janes McCall & Co.," on KKSN radio in Portland.
McCall says the practice of charging guests has become acceptable—even though it isn't right.
"Having someone approach you to pay for an interview is like buying a radio infomercial," she said.
McCall advises that guests don't pay. Instead, when you hear a sales pitch, simply reply, "Pay for an interview? I don't need to. Thanks anyway."
"Don't be bullied by these people," she said.
Joan Stewart publishes the free ezine 
"The Publicity Hound's Tips of the Week"
 packed with valuable tips on how to generate thousands of dollars in free publicity.
Article
Source
.
Tags: radio interviews
, free radio PR, public relations
|