________________________________________________________________________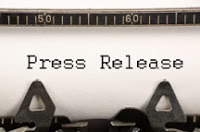 When a reporter is wowed, intrigued, surprised or captivated by your press release, you can be pretty sure you'll get some media coverage. And for most businesses, positive media coverage is worth its weight in gold. The bad news: Although truckloads of news releases fill reporters' inboxes every day, few of them are dazzling, or even interesting.
As a former editor, I speak from experience when I say that most press releases end up in the garbage can. But don't let that stop you from sending them — a well-written news release can generate more publicity and goodwill than you could ever accomplish with a paid advertisement. To help keep your release out of the garbage and get it in print, start by following these five guidelines.
1. Make it newsworthy. Releases should be used to announce news, and they should only be sent when something truly newsworthy is happening at your company. Don't send releases that sound more like advertisements than news; they'll get tossed immediately. (However, newsworthy events may happen more often than you realize — see the Resource Box below for ideas.)
In keeping with the news format, eliminate any superfluous language or outrageous claims (don't describe yourself or your products as "wonderful," "amazing" or "unbelievable"). Is your release written in language that would appear in a story in the newspaper or magazine you're pitching? If not, it might sound like fluff rather than news. Make it clear from the beginning what your news is and why it should matter to the reporter and his or her readers.
2. Tell a good story. Although you're sharing hard news (I hope), your press release should still be interesting to read. Even though your readers are media-types who do this for a living, they still like to hear a good story. Draw in your readers with a creative introduction and interesting language. Find new ways to say ordinary things. Read magazines, newspapers and books and pay attention to the stories that interest you and keep your attention. Then try to mimic those techniques and styles when writing your own releases.
3. Target your audience. As with any writing project, keep your audience in mind when you're writing. The editor of a small-town newspaper has different interests than the editor of a trade journal for CEOs of Fortune 500 companies. Choose the media outlets that would be most interested in your release and send it to them. For best results, you might even send each person a unique version tailored to their interests. And always send your release to an actual person — rather than sending a release to a general news desk, find out which reporter covers your industry or the type of news you're sending and send it directly to him or her.
4. Develop a relationship. Once you've located the reporters who cover your industry, start developing relationships with them. Call or e-mail to introduce yourself and find out if they prefer releases to be faxed, e-mailed or mailed. Be respectful of their time and the harried pace of their work, but don't be afraid to check in occasionally to follow up on a press release or let them know how much you enjoyed a recent article. Don't just rely on them for fr*e publicity; find out what you can do for them and do it — one-sided relationships never last. Be easy to work with and willing to accommodate their needs, and they'll be much more interested in covering your news.
5. Be consistent. Your communication with the media must be ongoing in order to get their attention. One release sent in a vacuum will probably not yield a lot of results. If reporters are unfamiliar with you or your business, it won't be a top priority for them to cover your release. However, if they're accustomed to receiving (actual) news from you and you've made an effort to forge a positive relationship with them (see #4), they're more likely to a) actually read your releases, and b) publish them, or at least keep you in mind as a resource for future stories. If you really want to take advantage of the possibilities press releases can offer, keep hanging in there.
Nancy Jackson, owner of
The WriteShop
, helps companies better market their products and services with powerful written communications including Web content, newsletters, brochures and publications.
Article
Source
.
Tags: writing great press releases, press release, PR
|