________________________________________________________________________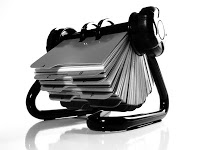 I got the latest issue of Internet Works in the post yesterday and was disappointed to find out that it's going to be the last. As well as having the good taste to run a feature on me last year (!) Internet Works has been a great source of information and ideas for me for the last couple of years and it's demise will leave a gap.
But it is also just another reminder that publications come and go, and their staff do too. But, with new publications emerging, and other titles closing, how do you keep up to date with all the PR opportunities out there?
Here are our Do Your Own PR tips to help you do just that.
1. It sounds basic but do set up a separate contact system for journalists - even if you've only got two names for your database at the moment.
2. If you're really organized then you can divide this into warm contacts (journalists you'd be happy to call and chat to) and cold contacts - those you haven't built a relationship with yet. You can then gauge your success as you watch names move from the cold to the warm list.
3. Keep in touch with your media list on a regular basis. That way if emails get bounced or you receive a reply saying "Bilbo Baggins no longer works with Hobbit Publications" you can update your list immediately.
4. If someone does move don't cancel them off with one touch of the delete button. Give their old office a call and find out where they have moved to - chances are they've moved onto bigger and better things and you can keep in touch. Even if they've suddenly moved over to Pigeon Fanciers Weekly and you know they aren't going to be able to do anything for you at the moment a nice "wish you well" email helps keep that door open for the future.
5. Ask your existing contacts if they can recommend any other journalists that might be good contacts (and that way you can sneakily drop in the referrer's name to warm up your contact).
6. Pay particular attention if journalists contact you. If someone calls from The Express don't assume that you'll be able to get hold of them by calling the Express. Many writers are freelancers whose contact details are guarded fiercely. If you get hold of their contact info treat it with the respect it deserves.
7. I've come across many clients who dealt with press in a former job but now dismiss their past contacts as being "old" or "not in the same area". How do you know until you ask? That freelancer you used to speak to about racing cars might also write about parenting issues - or, more probably, might know someone else who does. Don't just write off old contacts as dead ones.
Finally, a client recently told me about
World Wide Free Lance
.
Although it's aimed at freelancers looking for outlets to sell their work, it's also a great resource and inspiration for publications that may be PR opportunities.
Paula Gardner
:
Paula Gardner is the author of Get Noticed! How to Boost Your Small Business Profile in 30 Days or Less available
here
.
Article
Source
.
Tags: public relations media, media contact lists, tips for building a media contact list, public relations
|