________________________________________________________________________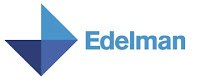 Edelman is "the leading independent global PR firm." (
edelman.com
) With over 3,000 employees and offices in more than 50 countries, Edelamn is an easily recognizable force in the public relations industry. What's more, Edelman has clients that are also easily recognizable, such as Quaker, Brita, Dove, and XBox 360.
Edelman started in 1952 after Dan Edleman, founder and chairman, left the
Toni Company
to open his own PR firm. With accomplishments such as bringing western companies to China, being the first public relations firm on the web, and creating standards to OTC drugs, Edelman seems to be going strong.
If you'd like to read more about Edelman and their accomplishments, numerous as they are, click
here
to be redirected to their website's homepage.
For tips on finding a job in PR, starting your PR firm, etc., please see my
Career Resources
hub. There, you will find relevant posts on PR careers, PR jobs, and more.
If you are interested in advancing your PR career, the Public Relations Specialist course may be your next step. For more information on the certification program I created, please visit the PRS homepage here:
BusinessTraining.com
.
Click
here
to return to the list of PR firms.
If you would like to add your firm to the list of PR firms linked above, please feel free to
email
me with your information; I would be more than happy to look over your information and add you to the list of profiles.
|