________________________________________________________________________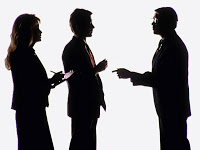 What do Monica Lewinsky, Shoshanna Lowenstein, and even Richard Hatch have in common? Media exposure. They were ordinary people who became household names.
Business and professional people may be called upon to represent their companies. The ability to present yourself well to the media can make or break your professional reputation and your company's image.
Will you be ready for your 15 minutes of fame? Don't be caught unprepared when the media comes looking for you.
Here are some tips for becoming media savvy:
Know the audience. Who is the listener, viewer, or reader of that media? Is it a business audience, the general public, or a college crowd? What's the focus of the show? Does it cover financial news, health issues, or women's topics?
Know the difference between the show's host and the producer. Write down their names. It's embarrassing to call the host by the producer's name.
Say thank you. Send a thank you note or small gift to the interviewer and the host. When Jerry Seinfeld announced his wedding plans, reporters interviewed his ex-girlfriend Shoshonna. She kept a stiff upper lip until the interview ended. Then she burst into tears.The reporters did not turn the cameras back on. Why? They liked her. Media savvy begins with good relationships.
Find an angle. Radio and TV interviewers are looking for good entertainment and good stories. They won't interview you unless your topic is newsworthy and of interest to the listeners. Write a headline for yourself.
What's unusual or different about your message? Tie your topic to an industry trend or current event. Make it interesting.
Speak in sound bites. Being brief is more important in the media than in any other situation. Say it simply. Eliminate polysyllabic words. Aim for a sixth-grade audience and speak in 15 second sound bites. You won't have time to tell long stories.
One athlete I worked with gave long answers that lasted from 30-60 seconds. He realized he was going on too long and sounded unfocused. At the end of the session he was able to speak in 20 seconds sound bites. He saw the immediate impact.
Avoid a yes or no response. A one word answer will kill the conversation. If asked, "Do you still get nervous speaking?" say "Yes, in fact, last night I rehearsed and gave myself a peptalk. The only difference is now I can channel my nervousness."
Look at the interviewer. Let the camera do its job. Speak to the interviewer, not the camera. The camera people will get the shots they want. Remember: you're having a conversation with the host.
Assume the microphone is always on. Watch what you say during breaks. You could be picked up without knowing it and that could be embarrassing. This also applies to print media. When the interview is over don't add anything. What you thought was "off the record" might end up in print.
You may never become a national celebrity but these tips will prepare you when it's time for your star to shine.
Diane DiResta, President of DiResta Communications, Inc. is an International speaker, training coach, and author of Knockout Presentations: How to Deliver Your Message with Power, Punch, and Pizzazz. To subscribe to Impact Player.
Article
Source
.
Tags: media and public relations, public relations tips
|