________________________________________________________________________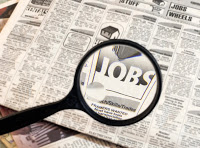 It may seem somewhat daunting in this economic time to find a job of any sort. Depending on where you're starting, being a recent graduate or a specialist from another profession, here are a few tips that might help you land a position in public relations:
[If you would d first like to learn more about public relations (and if it's the career for you) and the differences between it and advertising, click
here
]
Where to start?
First things first: it is in your best interest to have an education. Having a degree in public relations is not always necessary as a degree in journalism, marketing, or communications may suffice in lieu of a PR degree. The playing field has been leveled, though, with more and more individuals making their way into the job market with degrees; a bachelors degree seems to be the new high school diploma. It has become a necessity in order to find yourself with more options when looking for a career or job.
Finding a job to apply for may be the hardest part of getting a job in PR, but it could be half the battle. Some places to look may be your school's job board (if you still have access),

LinkedIn

,

Facebook

,

PRWeek Jobs (US)

,

Monster

, and

America's Job Bank

.

For some ideas of best firms to work for, check out TheHolmesReport, which offers news and intelligence for PR professionals.

Here

is a list of their best agencies to work for.

Bulldog Reporter also offers media news and intelligence for PR professionals, and has job listings on their site, which you can search and read through

here

.

LinkedIn even has an Entry Level and Intern group specifically for Public Relations. If you do not already have a LinkedIn profile, create one for yourself! It may be a resource a prospective employer may use to learn a little more about you and your accomplishments. Once you have a profile, you can join the

PRintern|EntryPR

group that lists internships and entry-level jobs, as well as discussions, articles, and available advice from PR professionals. With over 830 members, this may be a good place to start.

Also, be sure to check out industry publications, magazines, and other websites to get some leads and possible career opportunities.




Ok, so you've found a job you want to apply for. Now what?


Find out who to talk to about the position. Is it HR, the PR department, or the CEO? Figure it out so you can address your cover letter and other correspondence appropriately. This will show preparation and real interest in the company/firm and the position. If you don't seem interested, there is no reason for the firm to even consider hiring you; why would they want to? They want someone passionate about the company and what the company is doing.

If there is a job description, tailor your resume and cover letter accordingly. If the job description asks for attention to detail, excellent communication skills, and computer skills, by all means say that you have exactly these things! (So long as you have these qualities, of course.) List them as reasons why you would be a good fit for the firm, and what you could bring to the firm. Action words are key.

The person interviewing may also want some writing samples or examples of any PR work you may have done in the past. Do not supply them unless asked for; you can mention you have examples in your cover letter, but there is no need to inundate the hiring person with more to read when they may not even read your entire resume.



If you start off right, you may land yourself a position you love, or maybe one that just leads to another. Either way, being prepared makes it easier to accomplish your goals.




"Train Hard, Win Easy"




Tags: Job In Public Relations, Public Relations Jobs, Public Relations Career, public relations
|