________________________________________________________________________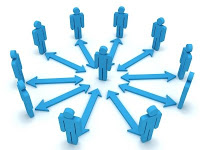 It is virtually impossible to succeed professionally and personally without developing a network of people. There is no career or business opportunity where you can be rewarded entirely for what you know and how well you know your work.
Networking requires a mission, goals, vision and a willingness to share valuable information with others. Networking events, meetings and conferences are places to make plans to reconnect and stay in touch. It involves building relationships, helping others and giving advice to anyone who asks. A trusting business relationship will enhance your base of contacts and build a lifetime of rewards. It's Not Who You Know, It's Who Knows You!
Networking is a skill that can be learned. To maximize the potential of your networking skill, you must learn the necessary strategies, and you must practice; just as you would when learning to play a sport or a musical instrument.
Introductions. There is incredible power in first impressions. Therefore, you should make it a priority to make the best first impression you can. For most introductions, the first real contact you have with another individual is a handshake. Your handshake communicates, professionalism, confidence and credibility. Learn how to give a quality, professional handshake - not too limp, but not too firm - to leave the best first impression.
Just as important as the handshake, is remembering a person's name, as well as its pronunciation and spelling. Moreover, a good rule to remember is people prefer to be called by the name they have introduced themselves.
Business Card Exchange. Challenge yourself not to give out your cards, until you have uncovered a reason for exchanging names and numbers. Lead your conversation in a direction that is beneficial for you to stay in contact beyond the event.
Building the Relationship by:
Knowing how to hold an effective conversation
Engaging your connection
Knowing how to actively listen
Building trust
Networking can Happen Anywhere. Remember that everywhere you go is an opportunity to network. Even at your current job! "Social Networking" is a sensible alternative to traditional organizational charts and everyday business transactions.
Follow-Up! Follow-up is essential in building and maintaining relationships. Don't let your network forget about you!
Networking as a way of life will bring you personal and professional success. Make the most of your time - be determined, patient and visible.
To get the most out of your networking abilities, you'll want to have a strong resource that you can trust on your side.
Practice conversations with people in familiar and uncommon places. Asking questions is a sign of a good listener and will help you establish rapport and build relationships. Connecting with people will bring you a world of opportunities.
EXECU DRESS
Patricia Dorch M.S.
President / CEO
Author, National Speaker and Trainer
© 2004 Patricia Dorch
About The Author
Patricia Dorch is a best-selling Author, National Speaker, Trainer and Career Coach. Her clients include both Corporate Clients and Government Agencies in Washington, DC. Contact Patricia for your day or evening event.
Article
Source
.
Tags: networking, tips for networking, public relations, PR
|