________________________________________________________________________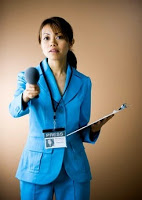 Have you ever noticed how the same people's names always seem to appear in magazines and newspapers articles which quote them as a source of info and advice on their own particular subject, whether it is web functionality and design, cosmetic surgery or investment banking?
They don't just get there by accident. They, or their PR Company, have put in a pretty concerted effort to become an expert in their field. And here's how you can become one too...
1. Your first step is to define your niche. Don't just choose the whole of your industry. Choosing a particular area that has relevance for people's lives (or their money!) means that you will be more appealing to a journalist or editor. For instance if you are a life coach choosing one area of coaching (say helping people find a new job) is going to be more successful than trying to set yourself up as an expert on everything. Likewise if you deal with investing people's money, talking about investing for your children's education and further education will bring you better results as specific situations and articles will bring you into the mind of the journalists.
2. Get your press release written - who you are and what you do should be summed up clearly and precisely. If you can't handle writing a press release get hold of a copywriter or contact me for details of my press release writing service. Make sure it has a vibrant and attention grabbing first paragraph as many journalists are too pressed for time to read beyond it.
3. Identify your target publications. This might involve some research into what your potential clients read, watch and check out on-line. Don't be distracted by the thought of getting into gorgeous glossies or huge consumer publications if your clients are more likely to be swayed by something they read in the trade press. Focus.
4. Sort out your press release (or get me to do it for you!) and send it, together with your tip of the month/week on investments, caring for your teeth, getting new clients, or whatever your particular niche may be. Experts have to be adept at putting difficult ideas and concepts into layman's language so keep tips practical and easy to read. When sending to journalists keep it in the body of an email, no attachments, no fancy pictures or logos.
5. Make a date in your diary to send a new one out every month/week. Don't forget to include your press release at the same time.
6. Make sure you have your extras (photograph, biography, logo) ready to go at all times if requested by a journalist.
7. Give the press a valid number, possibly even your mobile, where it's going to be easy for them to reach you without having to navigate switchboards or assistants.
8. Don't forget radio. Even if you think that you're unlikely to reach a large number of your potential clients by appearing on a particular show (and you can usually do this from home or the office if time is a problem), it's great to be able to say "as heard on.." and it's good practical media practice for you. Finally, even though your clients may not be listening, potential press contacts often are!
9. Advertise the fact that you are available for media comments and articles in as many places as possible - on your website, on your business card, in your email signature - and use your published tips to create a portfolio (both online and in a nice funky folder!) to further enhance your reputation as an expert.
Copyright © Paula Gardner 2004. All rights reserved.
About The Author
Paula Gardner is a PR and marketing coach who works with people who are passionate and serious about getting their business noticed by the media. You can read more articles on PR and marketing 
here
.
Article
Source
.
Tags: press coverage, tips to getting press time, PR, public relations
|