________________________________________________________________________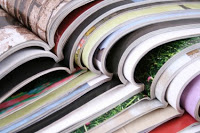 Southern grandmothers have often said, "there are only three times a respectable person's name should be in the paper: when you are born, when you are married, and when you die."
This is the one area in which I part company with my grandmothers. Publicity is more critical today for the success of a business than it has ever been.
Why do I believe it's critical? Let's review what publicity - particularly publicity in business and trade publications - can do for your business.
Provides Neutral Third-party Endorsement. Even though many think the media are biased, consumers still cling to the belief that people who are quoted by the media have something worthwhile to say.
Boosts Your Competitive Advantage. Positive publicity confirms for your customers that they made the smart choice when they elected to use your products or services.
Enables Referrals. Your "smart" customers become evangelists by handing out articles about you to their business contacts.
Shortens Your Sales Cycle. Media coverage often does a better job of explaining what you do than an ad can. So, readers will have a level of knowledge about you before you meet.
Builds Your Marketing Library. Print and web-based articles can become excellent marketing material that costs little to develop.
Positions You. Publish or perish is the academic motto. Experts from outside the world of academia also know that by being quoted by the media they can improve their position as industry experts.
Builds Value. For every speaker like Tom Peters earning thousands of dollars for appearances, there are hundreds who are paid a pittance for speaking engagements. Can you guess the difference?
As you can see, there are a wide variety of reasons for you to be publicizing yourself and your business. Just this once, don't listen to Grandma. Go get your name in the paper.
Harry Hoover is a partner in My Creative Team. He has 30 years of experience in crafting and delivering bottom line messages that ensure success for serious businesses like Bank of Commerce, The Bray Law Firm, Brent Dees Financial Planning, CruisingTheICW . com, Duke Energy, Focus Four, Levolor, North Carolina Tourism, TeamHeidi, Ty Boyd Executive Learning Systems, VELUX, and Verbatim.
Article
Source
.
Tags: publicity, public relations, PR
|