________________________________________________________________________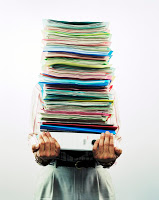 So, you've had your book published or you've gone the self-published route, but what do you do now?
You contact a newspaper, radio or television station requesting an interview and they ask you to send them a press kit.
First of all, don't panic. A press kit is not some magical entity that only those published by the big houses can have. You can create an affordable and great looking press kit on your own.
Here are some things that you can include in your press kit to send to interested reviewers and interviewers.
1. An author's bio detailing all your professional writing credits, contest wins, short stories, articles etc. A little bit about what you enjoy in your spare time, but most of it should be about your writing life.
2. Include the clippings (or photocopies of them) from newspapers or magazines where your articles have appeared. If you've only ever written for the web, print out a copy of the article and mention the website where it was selected to appear. Don't include your own website as a writing credit.
3. An author photograph, as professional as possible. A head and shoulders shot is usal. Don't send your latest holiday snaps.
4. A picture of your book's cover, or postcard or poster of it.
5. Any previous good reviews you have had for your book.
6. Any speaking engagements or booksigning events that you have coming up. Or the details of previous ones and how successful they were.
7. You could also include a previous interview, it might save them some time and at least you know what sort of questions might be asked of you.
If you can afford it, a nice presentation folder for your press kit goes down well, but it isn't a necessity. On your website, you can also list the things above as a virtual press kit, but if a newspaper etc. ask for a press kit, don't just send them to the website. They would probably prefer everything in hard copy, but it doesn't hurt to ask if they would accept an electronic copy.
About The Author
Annette Gisby is a novelist and freelance writer. Her articles have appeared both in print and online, and to date she has three fiction books published, Silent Screams, Drowning Rapunzel and Shadows of the Rose. Her non-fiction book, Writing the Dream has lots more hints and tips for writers. Please visit Annette's website for more information on her books
here
.
Article
Source
.
Tags: industry tips, public relations industry, press kits, public relations
|