________________________________________________________________________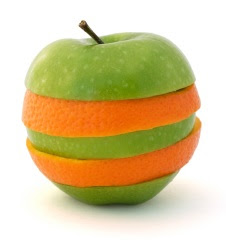 Public relations is becoming a catch-all term. In talking with customer service/loyalty experts over this past week, I've learned that what I advocate for people to do in PR, they advocate for their clients to do in the customer service activities. It's also what I've heard marketing professionals tell their clients to do, and there are countless books and posts on why marketing and PR are more and more related today than they've ever been.
Is there a reason the three areas of a business are still divided in most companies? Wouldn't things work better if they were more integrated, if customer service talked to the PR team, and if the marketing team saw what the customer service department was up to? I think so.
"
What are you hearing,
" you ask, "
that makes you think PR=Customer Service=Marketing
?" The strategies are all the same. The end goals are the same. And the road to which they reach these goals (the tactics) are also the same.
The Goal.

To increase awareness, mind-share, and overall buy-in for what the company is offering, advocating, selling, etc.

The Strategies

. To make their brand easily identified, to make their cause easily accepted and identified

with

, and to create a loyal customer base.

The Tactics

. Connect with customers on a personal level, offer a two-way line of communication, answer questions, offer solutions, just

be there.
The tactics usually include the following:
Using social networking platform

s. Twitter, Facebook, LinkedIn, foursquare, etc. These are all online tools companies can use to get more in touch with their customers, create a more personified brand image, and share information about the firm.


Sending press releases

. Though tied to PR for the past few decades, this is also used in marketing. Press releases are great ways to alert people of new things happening, and great ways to pitch the media.


Having a blog

. If companies would rather not pitch the media and communicate with their customers through this and social networking, blogs can be a great outlet for information sharing.


Hosting forums, chats, chatrooms, etc.

This is a way to provide a way for customers to contact you with complaints, concerns, questions, etc. Customers will talk about you anyways, and with the availability of places for them to do so, they have no reason not to. Why not provide the space for them, so you can more easily monitor and respond to potential crises?

Being more personable

. This can be hard to fake, so it takes actual effort, time, and energy. The company needs to utilize the tools above and actually be available and accessible.


Going above and beyond expectations

. This is something used in customer service, but in PR, you can do the same thing. If you use social media, don't just use it as a way to share your new product, use it to offer great customer service to change the minds of upset customers, creating loyal advocates. Customers are used to companies doing the minimum to satisfy our needs, but satisfying and creating loyal customers are very different tasks.

Do these not all sound like solid ways to reach your PR goals? What about your customer service goals? And your marketing goals? Why, then, are we making the distinctions?