________________________________________________________________________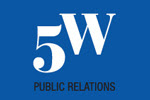 One of the top 25 PR firms in the industry, 5W Public Relations has clients the likes of Harrah's, Evian, McDonald's, XM Satellite Radio, and BET Networks. Founded in 2003 by Ronn Torossian, they are now a full-service firm, and work in the consumer, technology, entertainment, lifestyle, fashion, corporate communications, and health and wellness areas. The are headquartered in New York with an office in LA. They were voted the 5th largest firm in NY and the 21st largest firm in the US by the O'Dwyers PR Report, and have revenues exceeding $11.5 million.
To learn more about one of the 'fastest-growing-agencies', check out their website and their CEO's blog, which can be found
here
on their homepage.
For tips on finding a job in PR, starting your PR firm, etc., please see my
Career Resources
hub. There, you will find relevant posts on PR careers, PR jobs, and more.
If you are interested in advancing your PR career, the Public Relations Specialist course may be your next step. For more information on the certification program I created, please visit the PRS homepage here:
BusinessTraining.com
.
|