________________________________________________________________________



J Public Relations
________________________________________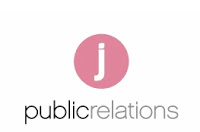 J Public Relations is a PR firm based in San Diego, California. They are a select-service boutique agency that specializes in hospitality, restaurant, design and consumer products, and travel/tourism public relations and marketing. They were initially established as a partnership between Kim Guyader and Jamie Sigler, both of whom had experience in the public relations industry.
With a PR team of women, J Public Relations has helped clients such as Harrah's, Sheraton Hotels, AIDS Walk San Diego, and many, many more. They offer public relations, media relations, community relations, cause marketing, promotions, event management, talent management, and online marketing services.
To read some of their case studies and to learn more about their all woman PR team, click
here
to be redirected to the home page.
For tips on finding a job in PR, starting your PR firm, etc., please see my
Career Resources
hub. There, you will find relevant posts on PR careers, PR jobs, and more.
If you are interested in advancing your PR career, the Public Relations Specialist course may be your next step. For more information on the certification program I created, please visit the PRS homepage here:
BusinessTraining.com
.
Click
here
to return to the list of PR firms.
If you would like to add your firm to the list of PR firms linked above, please feel free to
email
me with your information; I would be more than happy to look over your information and add you to the list of profiles.
|